According to baiinfo, the price of Chinese paraquat mother concentrate at 220-kg 42% is quoted at RMB27,000 per ton, rising by RMB1,000 per ton and having reached RMB25,000 to RMB26,000 per ton. The transaction price of 200-liter 20% AS increased by RMB1,000/kl, having reached RMB16,500 to RMB18,500/kl.
The FOB price of mother concentrate at 220-liter 42% increased by $100 per ton, having reached RMB3,500 to RMB3,600 per ton, with the FOB price of 200-liter 20% increasing by $50/kl, having reached $2,280 to $2,500/kl.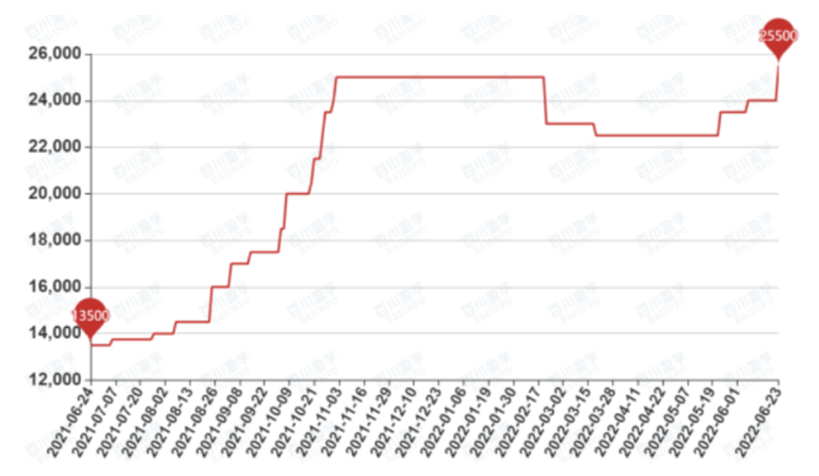 Price of paraquat (RMB/ton)
From a market perspective, the reasons for the rise in the paraquat price are as follows:
- From a raw material supply standpoint, the price of upstream pyridine has risen sharply, backed up by high prices due to short supply.
- From the supply side, except for a factory in Jiangsu that was shut down for maintenance, mainstream manufacturers are running at full capacity. Moreover, some factories are still honoring previous purchase orders. Therefore, there is no additional capacity for on-spot orders and prompt shipments.
- From the demand side, overseas demand continues to rise and buyers are willing to buy.
- From a logistics standpoint, waterway transport is back to normal, but tight shipping space is limited and difficult to book, resulting in shipping pressure.
- The tenth meeting of the Rotterdam Convention, which was held from June 6 to 17, 2022, failed to include paraquat in Appendix III of PIC, causing some countries to postpone their planned ban of paraquat, which is good news to the demand side.
This article was first published on Agropages.com
We enjoy CHEMISTRY and offer INNOVATIVE service
넳
넲